While wandering Home Depot on Thursday we stumbled across a deal–a steel mesh security door–this is an example of one taken from the Home Depot website–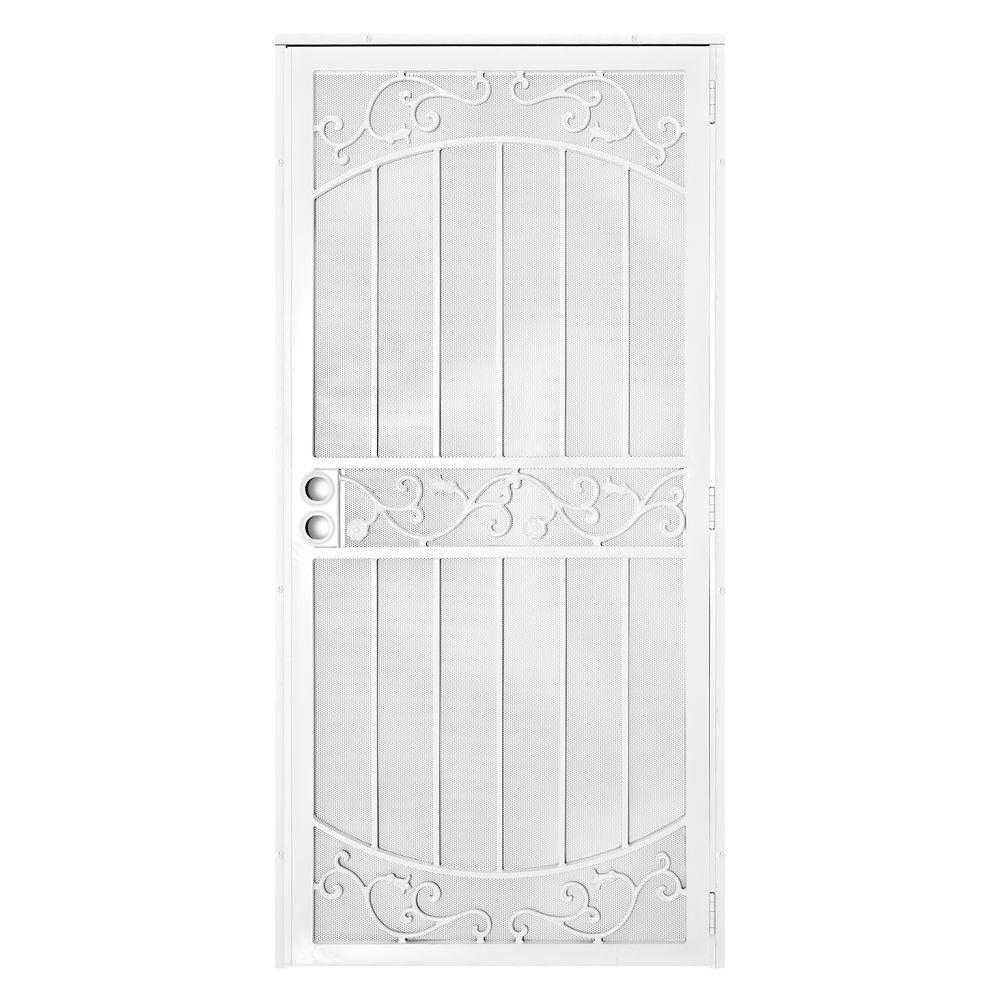 These doors are heavy gauge steel and made to stop intruders–included with the doors are special lag bolts and a tool to insert those bolts.  Once the door is hung it cannot be removed via conventional methods such as unscrewing the bolts–these special bolts don't "unscrew."  The only way to remove the door bolts is with a cutting torch or grinder.  The steel door stops intruders from "kicking in" your doors.  These doors are pricey–$100-200 and up to almost a $1000.  This one was $44–it must have been ordered and returned–we aren't sure why it was marked down so much but it works on our back door.  We needed a screen door–I don't like leaving the doors open without screens–bugs, critters and SNAKES can enter.  The Cowboy installed the door yesterday and we are very pleased!
Several of our windows were "screen-less."  As you all know, my Cowboy can do anything.  At Home Depot he purchased a screen kit and Friday he built two screens for the front of the guest house windows.
We have no idea how long these houses actually sat vacant–our neighbors thought perhaps 10 years.  In the main house we discovered a "growth chart" etched in pencil on a door trim.  "Dad's" height was at the top and then there were various initials and numbers for the growth of other individuals over the years.  The last recorded height was in 2004–was this house vacated shortly after that date–who knows but it's amazing anything was left and working after that stretch of time!
Speaking of working–the evaporative cooler is soon going to be working–who knows how long that thing sat up on the roof exposed to endless days of Arizona sun.  And by the way, where is that Barry guy when you need him!  I asked the Cowboy when he learned to work with sheet metal to build a box and he said, "today!!"  He's building a metal box to replace this dilapidated wooden one–
Evaporative coolers work by running water over pads of various materials–our cooler in North Ranch had honeycomb paper pads, the pads the Cowboy found locally are made of aspen shavings of all things!  That cool air is then blown via ducts into the home.
Friday I got the bright idea to sand the textured ceiling in the bedroom–big mistake!!  We blocked the room entry doors with plastic, I donned a mask and started sanding.  By the time I finished two hours later I looked like Casper the ghost!  Back to the drawing board, this afternoon I sprayed water on a section of ceiling and WOW–I used a wallpaper scraper and the stuff just fell off–much easier than trying to keep a palm sander going over your head while on a ladder!!!
Today was yard sale day–we found brand new Home Depot blinds for $3/set to fit the two living/dining room windows.  We bought a coffee maker which doesn't work but, hey the $10 we paid was to the Lions Club so it's good.  And a vacuum cleaner for all this dirty work we are doing rather than ruining our good one.  The Cowboy also found a bargain garage door opener.
Saturday night we were both tired and decided to try the local eating establishment–TJ's.  Our meals were great and the company colorful as is often the case when eating in a bar!
And now a story from my past involving this little guy–
In my early working days (1979) as a RN at Baptist Medical Center in Little Rock, Arkansas there was (and still is) a fabulous florist in the first floor concourse between the hospital and the medical offices tower called Tipton and Hurst.  One October day I spotted this cute little  jack-o-lantern and he came home with me.  It gives me joy to bring him out each fall–his plate met with an accident years ago and is glued together–but his smile makes me smile!
Life is good!